http://destinationmissoula.org/events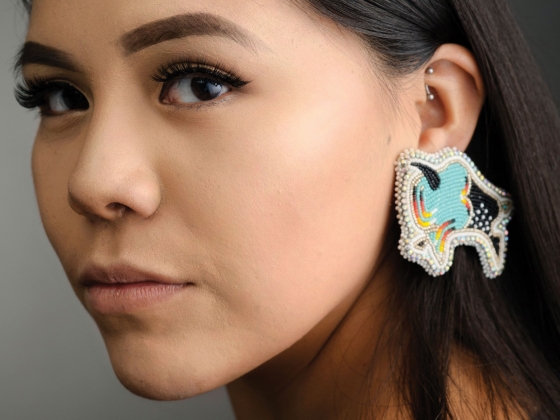 Connie Brownotter
Stepping up with Connie Brownotter
Part honor student, part ranch kid, equal parts indigenous activist and powwow and homecoming royalty, Connie Brownotter of the Standing Rock Sioux Nation is a campus leader who is changing the narrative about American Indian students at MSU.
Mountains and Minds Magazine DECEMBER 21, 2018
What is your hometown, tribal affiliation and major?
I grew up on my family's buffalo ranch in Bullhead, South Dakota, on the Standing Rock Sioux Reservation. I'm Hunkpapa Lakota and Diné (Navajo). I'm a junior majoring in Human Development and Family Science and minoring in Native American Studies.
You have a lot of activities, but what is your No. 1 priority?
Academics. I put so much work and passion into what I do. I'm a Gates Millennium Scholar, an MSU Presidential Emerging Scholar, an executive member of the American Indian Council, an Honors College student and I was a member of Phi Upsilon Omicron honors society. Academic success makes me happy and is one of my top priorities.
Most important goal?
I want to be a role model. I want to reflect the success of the indigenous community at MSU and show that a Native woman can succeed. I want to bring awareness to the MSU campus community that indigenous people are still here, we're proud of our cultural identities and we're doing amazing things.
How do you model that to other students?
A lot of Native American students struggle when they come to campus because they feel like they don't fit in. I believe that you can change and grow when you step out of your comfort zone. However, many Native students step out of their comfort zones just by coming to school at MSU. In order to help them succeed here, I like to bring them (younger Native students) into the circle and invite them to join our community. We have to create an environment where they will feel supported. I want other Native students to think, "If she can succeed, I can, too."
I am proud of the Native presence here (at MSU). I want to put that out there. There are strong Native students on MSU's campus. We are a beautiful people doing big things.
Where did you gain your confidence?
I am, at heart, a shy person. It took years and years for me to learn how to be confident and reach out to others. Adversity, for me, helps me improve. Usually, I'm the only brown student in my classes, but I try not to let that affect me in a negative way. I take challenging moments like that and try to look at them in a way that will allow me to use my unique perspective to my advantage. In short, I gain my confidence from my Native identity.
Who motivates you?
My family. My whole, entire family is high-achieving, successful and hardworking, yet so humble, kind and supportive. They constantly motivate and support me. And I have had help. So much help. When I was a junior in high school my science teacher encouraged me to apply to a preparatory school called Phillips Academy Andover near Boston. I don't know if I would have gone without her support. She encouraged me and believed that I could do it, so I did.
Why education?
Because the possibilities with that degree are endless. Higher education, to me, is what will help future indigenous leaders make a lasting difference in their communities. Education will help us gain the knowledge and the tools to make a positive impact in our tribes. The combination of culture and higher education is powerful.
As for myself, I have changed my major seven times to find out what really interests me. I love education and I plan to get my master's degree and doctoral degree. I could see myself as a professor at a tribal college or working on my family's ranch or being involved in tribal politics. I'm not sure yet. I can see myself in a lot of areas. One thing is for sure, I'll be working with my people on Standing Rock.
What is the most surprising thing that has happened to you at MSU?
I was selected to be a finalist for homecoming ambassador this year. At the interview, I had to sing the MSU fight song in front of a large panel of judges. That sort of thing really pushes me out of my comfort zone, but I did it. I am going to be out there on the football field in my Native regalia. It is time for indigenous people to reclaim their pride in their identities and their culture. I hope to embody that.
And you are also Miss Indian MSU.
Yes, which is another form of leadership. With this title, I travel and represent MSU and the American Indian Council at powwows and events throughout the nation. This title gives me the opportunity to serve as a goodwill ambassador for indigenous people as well as to be a positive role model for indigenous women everywhere.
I danced since I was a little girl, but I stopped dancing at powwows when I literally outgrew my moccasins and didn't get a new pair. I love powwows, and when I came to college, I decided I would make my own regalia. Some people don't realize how much time and money goes into making regalia. I ended up teaching myself how to make my own jingle dresses. I hope that by doing this, I can encourage Native people everywhere to learn traditional art forms in order to keep our traditions and culture going.
What do you see yourself doing in 10 years?
Continuing to be a leader. I see myself going home to do work with my tribe and community, to make a difference. I don't know if it will be in politics, maybe, or education. But it will be about leadership for me and my people. And, I know I will succeed through hard work, courage, ambition, and culture. •
This article was originally published in Mountains & Minds Magazine, Fall 2018.
---
FEBRUARY 26
Winona LaDuke

:
UM's Presidential Lecture Series at The Wilma
Public · Hosted by Logjam Presents and 2 others
| | |
| --- | --- |
| | Tuesday, February 26, 2019 at 6:30 PM – 9:30 PM |

The Wilma

131 Higgins Ave, Missoula, Montana 59802
ABOUT WINONA LADUKE: UNIVERSITY OF MONTANA'S PRESIDENTIAL LECTURE SERIES
Winona LaDuke is a rural development economist and author working on issues of Indigenous Economics, Food and Energy Policy. She lives and works on the White Earth reservation in northern Minnesota, and is the Executive Director of Honor the Earth (HtE). She co-founded HtE with the Indigo Girls, as a platform to raise awareness of and money for indigenous struggles for environmental justice. She works nationally and internationally on the issues of climate change, renewable energy, and environmental justice alongside Indigenous communities. In her own community, she is the founder of the White Earth Land Recovery Project, Anishinaabe Agriculture Institute, and Akiing: 8th Fire Project. She also runs Winona's Hemp and Heritage Farm. Globally and nationally, Winona is known as a leader in the issues of cultural-based sustainable development strategies, renewable energy, and sustainable food systems. She is one of the leaders in the work of protecting Indigenous plants and heritage foods from patenting and genetic engineering.
LaDuke's work on food systems includes; the creation of Native Harvest, protection of wild rice (manoomin), and the promotion of food sovereignty for reservation communities. On her farm in northern Minnesota, she grows traditional varieties of corn, beans, squash, Jerusalem artichokes, melons, herbs, and tobacco. This work is documented, in part, in the book Food is Medicine, available from Honor the Earth. Work on the restoration of traditional corn varieties has received significant support from the USDA Sustainable Agriculture Research and Education, and a number of private foundations. In 2015 -2016, LaDuke and Honor the Earth completed a Mille Lacs Band Tribal Food Plan including policy and implementation plans for the Mille Lacs Band of Ojibwe.
LaDuke's work in renewable energy includes the completion of the White Earth Tribal Energy Plan and support for the installation of solar and wind energy systems on the White Earth reservation. Akiing and Honor the Earth are also collaborating to bring a solar thermal panel manufacturing facility to the White Earth Reservation. Through collaborations between Honor the Earth and Solar Energy International, she has also contributed to installs on the Navajo and Western Shoshone reservations and territories.
In 2007, LaDuke was inducted into the National Women's Hall of Fame, recognizing her leadership and commitment to her community. In 1994, LaDuke was nominated by Time magazine as one of America's fifty most promising leaders under forty years of age. She has been awarded the Thomas Merton Award in 1996, Ms.Woman of the Year (with the Indigo Girls) in l997, and the Reebok Human Rights Award, with which in part she began the White Earth Land Recovery Project. The White Earth Land Recovery Project has won many awards- including the prestigious 2003 International Slow Food Award for Biodiversity, recognizing the organization's work to protect wild rice from patenting and genetic engineering. LaDuke was a co-founder, and Board Co-Chair of the Indigenous Women's Network for fifteen years, and maintains a significant role in international advocacy for Indigenous people. This has included numerous presentations at United Nations forums, and involvement in opposition to mega projects impacting Indigenous Communities.
A graduate of Harvard and Antioch Universities, she has written extensively on Native American and environmental issues. She also attended the Massachussets Institute of Technology in the Community Fellows Program. The author of six books, including Recovering the Sacred, All our Relations. a novel-Last Standing Woman, and her newest work The Winona LaDuke Chronicles. She is widely recognized for her work on environmental and human rights issues.
Common lecture topics:
● Creating a Multi-Cultural Democracy: Religion, Culture, and Identity in America
● Recovering the Sacred: An American Holy Land, and Non-Christian Faith in America
● The Next Energy Economy: Grassroots Strategies to Mitigate Global Climate Change, and How We Move Ahead
● Seed Sovereignty: Who Owns the Seeds of the World, Bio-Piracy, Genetic Engineering and Indigenous Peoples
● Water is life/love water, not oil: Opposing the Enbridge Corporation in Northern Minnesota
● Hemp Futures: Re-establishing the hemp economy in Northern Minnesota
---
---


Breaking News! Right here in Montana we must fight for our right to have a choice! Greetings Sisters and Brothers!

WE NEED YOUR HELP! PLEASE DONATE TO OUR LEGAL FUND!
The Montana Green Party is facing a legal challenge to our ballot access! We are incredibly saddened that the Democratic Party is working so hard to silence progressive voices in Montana
and we pledge to continue to fight for your right to vote for candidates that represent you!
The DNC has brought in Perkins & Coie, the same high powered international law firm that they used to defend HRC and the DNC against Bernie supporters after the 2016 Democratic National Convention! Standing up to these bullies is not going to easy and we need financial support!


EVERY LITTLE BIT HELPS!

Together we can stand up to these bullies and defend the civil rights of all Montanan's!
The Green Party for peace, people and planet has every right to have candidates on the ballot.
The Corporate Shenanigan Parties of empire should not be allowed to hog the ticket.
We only have two choices...

One can vote for unending wars, bankruptcy, global depression and chaos with the corporate partites.

Or vote for peace, people and a healing planet with a Green New Deal.




A life or death choice... for Freedom http://mtgreenparty.org/donate/
#VoteGreen2018 #MTGP #GreenEnter #GPUS

https://thepeaceresource.com/.../26/revolution-is-the-cure/

The corporate parties have merged… and we must not be moved. "How can we create a sustainable green future that includes economic equity and social justice?"

"How can agendas for economic rights and environmental protection become more integrated and more successful?" Seventy-five years after the start of the New Deal,
and nearly 40 years after the first Earth Day, the need for basic change on behalf of social justice and ecology is clear. But ideas are the easy part. In an era of massive
environmental damage and vast economic inequality, we've got to organize.

https://revolutionresource.org/.../green-new-deal.../

It is time for a Green New Deal to revitalize the nation and invest in a sustainable future.

If you can afford even a dollar or two, this will help us fight the corporate elite and
finally we can have a real chance for peace, justice and freedom on the ballot.

http://mtgreenparty.org/donate/


Nina Simone - Don't Let Me Be Misunderstood
---
The Portland Alliance Archives and the Newspaper Production office are located at 2228 West Kent Avenue Missoula, Montana 59801...
at The International Peace Resource Center Library in Missoula, Montana.

The library has between 12 and 14 thousand volumes. We need help with indexing, filing, building shelves, framing out the back porch, installing shelves, mirrors and more...

This nonprofit public library contains the archives of The Portland Alliance and resources connected with
The Wordsmith Collection, RevolutionResource.org, ThePeaceresource.com, ThePortlandAlliance.org. and Writingresource

University of Montana at Missoula students can arrange work-study at a growing library, with globally published blogs and
a working online newspaper which was in print from 1981-2011.

Anthropology Art, School of Business School Communication Studies Computer Science
Creative Writing Program Economics Educational Leadership English Environmental Studies Forestry and Conservation, College of
Global Youth Development Health and Human Performance History Interdisciplinary Studies Journalism Linguistics
Media Arts Music Philosophy Political Science Psychology Public Health Resource Conservation Social Work Sociology
Teaching and Learning (Curriculum and Instruction) Technical Communication Theatre & Dance Wilderness Management

and/or Women's and Gender Studies