Check out info on Emergency rallies in case of US bombings.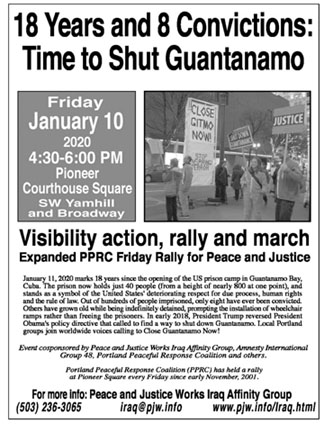 Friday, January 10, 2020 4:30-6:00 PM
"18 Years and 8 Convictions: Time to Shut Guantanamo"
SW Yamhill and Broadway, Pioneer Courthouse Square, Portland
Visibility action, rally and march
Expanded PPRC Friday Rally for Peace and Justice
More info • Flyer
Saturday, February 22, 2020, 12 noon-2:15 PM
Peace and Justice Works 28th Annual Meeting
Augustana Lutheran Church (upstairs) 2710 NE 14th, Portland
Vegetarian potluck 12-12:30, meeting 12:30-2:15
Keep Oregon's Guard Home / War Dollars
NEW! Read about our November 2019 efforts to Keep the National Guard from deployment to Afghanistan, Iraq and elsewhere.
(letter signed by 14 organizations to Governor Kate Brown).
Also see previous efforts of the war dollars home campaign
JULY-2014->: City Council War Dollars Home Campaign:
In late July 2014, numerous local peace and social justice groups
began petitioning Portland City Council to reaffirm its 2012 War Dollars Resolution
by passing a new Council Resolution calling for federal war dollars to be spent on local human needs.
To get involved sign the petition or contact PJW.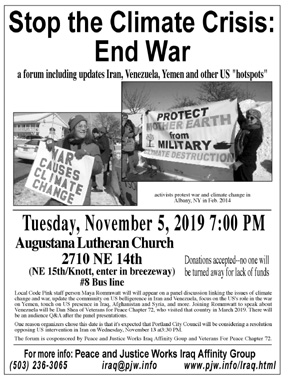 Peace and Justice Works [PJW], formerly known as Portland Peaceworks,
is an Oregon non- profit corporation whose main purpose is to educate the general public
on important issues including but not limited to: peace, justice, the environment, and human rights.
Organizationally, much of Peace and Justice Works' activities are conducted through Project Groups,
also known as affinity groups. Peace and Justice Works is primarily an umbrella organization
which disseminates information on the tragedy of military interventions and military spending,
builds coalitions among groups whose goals intersect with our own.
(We began as a chapter of the state-wide group Oregon PeaceWorks,
which ceased operations at the end of April, 2013.)
We participate in annual Hiroshima Day commemorations, and
various community activities with other peace and justice organizations.
PJW has helped organize and coordinate multiple major mobilizations for peace
since late 2002 with various other groups seeking to end (and prevent) the wars in Iraq and Afghanistan.
Previously, one of our largest activities was the Peace and Justice Fair, held on
Memorial Day (1992- 1995, 1997, 1999) to remember those who gave their lives in war
by working toward a world without war. The community event involved
the neighborhood surrounding Irving Park as well as activists from all over the region,
musicians, food, children's activities and speakers. Literature from many
groups was distributed to make this an educational event as well as a celebration.

While Project Groups can (by our bylaws) be created or disbanded
from time to time, existing groups at this time are:
(i) Portland Copwatch
(ii) Iraq Affinity Group
(iii) Sarajevo Peace Centre/People's Aid to Former Yugoslavia.
(iv) Pentagon Porkbusters
(v) Portland SOA Watchers
Nothing stated above limits Peace and Justice Works to the project groups listed.
As circumstances develop, we will begin other projects. Our overall mission will remain
to educate the general public on issues including but not limited to peace, justice,
the environment and human rights.