---
American Indian Movement
Announces Walk for Leonard Peltier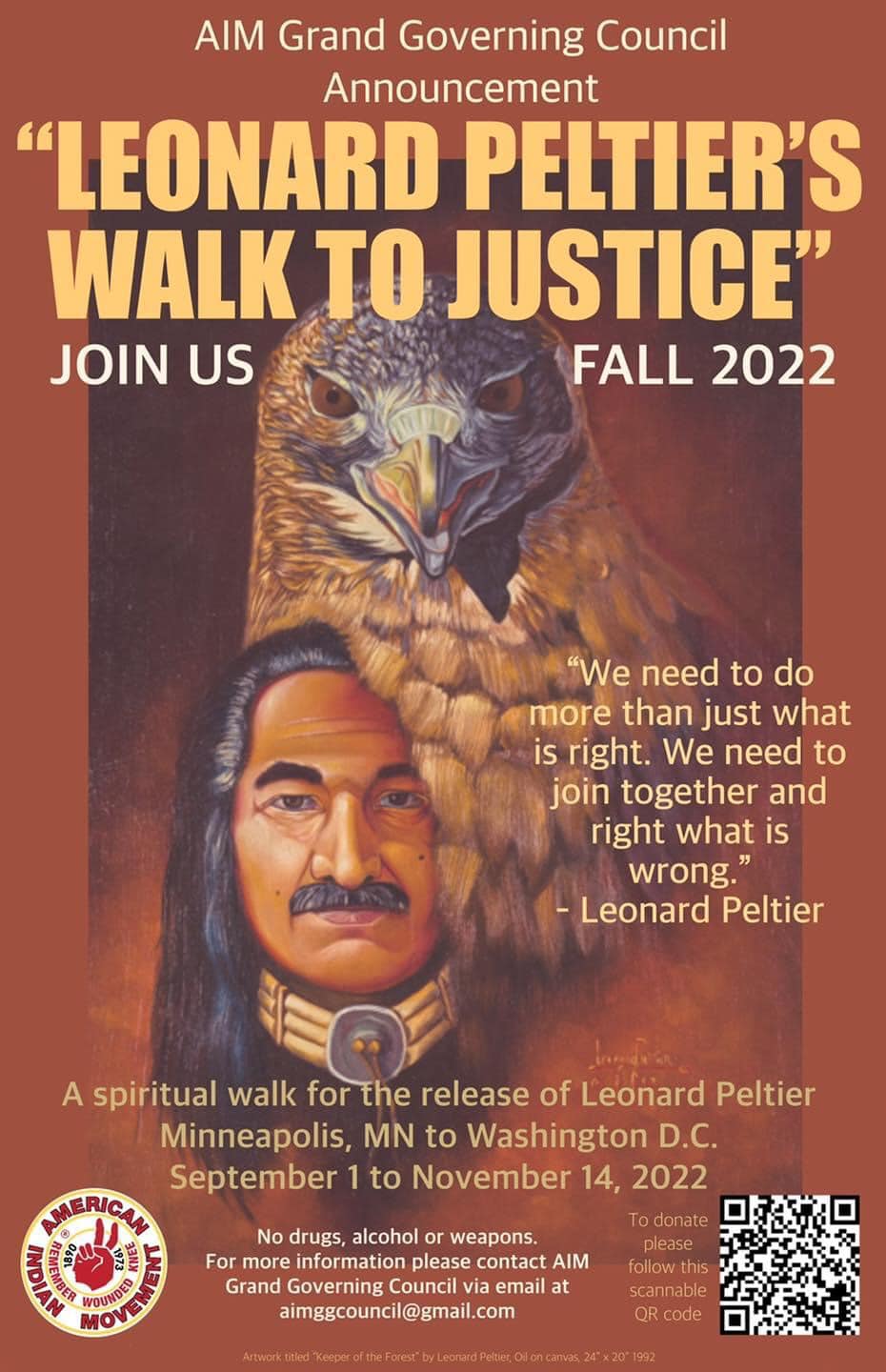 BY DARREN THOMPSON
MINNEAPOLIS — The American Indian Movement's Grand Governing Council (AIMGGC) announced on Tuesday that it's organizing a freedom walk for Leonard Peltier later this year, from September 1 through November 14, 2022.
"Leonard Peltier's Walk to Justice" will start in Minneapolis and end in Washington, D.C., where organizers plan to meet with government officials to demand the release of Peltier from the U.S. federal prison system.
"The vision and prayer for this walk—Leonard Peltier's Walk to Justice—began almost two years ago through dreams," said American Indian Movement of Indiana and Kentucky Chapter Director Rachel Thunder to Native News Online. "We, AIMGGC, knew we had to move in a big way to see Elder Leonard Peltier released."
Peltier has been in prison since April 1977, when he was convicted by a federal jury in Fargo, N.D., for the killing of two FBI agents on the Pine Ridge Indian Reservation in South Dakota. He is considered by many as America's political prisoner. He's been eligible for parole since 1993, for 29 years. The Supreme Court has twice denied his petitions for a rehearing.
There have been several walks for Leonard Peltier over the past decades, including the Leonard Peltier Walk for Human Rights in 2011 and the Walk for Justice in 1994. Those two walks were cross-country, starting in California and trekking all the way to Washington, D.C., demanding freedom for Peltier.
"The simple fact is this: Elder Leonard Peltier has been held as a political prisoner for over 45 years by the United States as the result of a corrupt and unjust trial," said Thunder. "As long as the United States government holds Elder Peltier, they hold a piece of all of us as American Indian peoples. Until Elder Leonard Peltier is free, none of us are free."
Organizers say that the walk will be prayerful and anyone can join. In a letter to President Joseph Biden, dated January 4, the AIMGGC said, "Until Elder Leonard Peltier, AIM human rights defender, is released, we will continue to push this injustice on a worldwide platform and hold accountability to the U.S. Government and your administration."
For more information on the walk, including how to get involved, visit the walk's Facebook page.
More Stories Like This
Navajo Nation President Jonathan Nez Meets with New Mexico Governor and Legislators
Labor Secretary Explains Why American Indians/Alaska Natives are Now Included in the Monthly Jobs Report
EXCLUSIVE: Paiute Tribal Member Austin Corbett to Play in Super Bowl LVI
Gila River Indian Community Gov. Stephen Roe Lewis Elected Recording Secretary of NCAI
Reservation Dogs' Casey Camp-Horinek to Speak in Santa Fe on American Indian Day

11 years of Native News
This month, February 2022, we celebrate our 11th year of delivering Native News to readers throughout Indian Country and beyond. For the past decade-plus, we've covered the important Indigenous stories that are often overlooked by other media. From the protests at Standing Rock and the toppling of colonizer statues during the racial equity protests, to the ongoing epidemic of Murdered and Missing Indigenous Women (MMIW) and the past-due reckoning related to assimilation, cultural genocide and Indian Boarding Schools, we have been there to provide a Native perspective and elevate Native voices.

Our news is free for everyone to read, but it is not free to produce. That's why we're asking you to make a donation this month to help support our efforts. Any contribution — big or small — helps. If you're able, we ask you to consider making a recurring donation of $11 per month to help us remain a force for change in Indian Country and to tell the stories that are so often ignored, erased or overlooked.
Donate to Native News Online today and support independent Indigenous journalism. Thank you.
About The Author
Darren Thompson (Lac du Flambeau Ojibwe) is a freelance journalist and based in the Twin Cities of Minnesota, where he also contributes to Unicorn Riot, an alternative media publication. Thompson has reported on political unrest, tribal sovereignty, and Indigenous issues for the Aboriginal Peoples Television Network, Indian Country Today, Native News Online, Powwows.com and Unicorn Riot. He has contributed to the New York Times, the Washington Post, and Voice of America on various Indigenous issues in international conversation. He has a bachelor's degree in Criminology & Law Studies from Marquette University in Milwaukee, Wisconsin.

https://thepeaceresource.com/2013/09/24/nativeamericanholocaust/.
#JusticeForClarenceLeadingFighter #NativeLivesMatter
---
Red Cloud's Revolution:
Oglalla Sioux freeing themselves
from fossil fuel
---
https://youtu.be/J3YpTBDrgiY

Native American Protest
in North Dakota and Across the Nation
Native American tribes are eyeing marijuana legalization as a potentially lucrative business opportunity in the wake of a green light from the Department of Justice in December.
So far, no tribe has taken the plunge, but across the country tribal leaders who have not reflexively rejected the idea are taking a look at what may become a significant revenue stream.
In the Northeast, the Mohegan Indian Tribe, which operates the large Mohegan Sun casino in Connecticut, and the Narragansett Indian Tribe in neighboring Rhode Island are weighing the option.
Montana's vast Fort Peck Reservation may
put the issue on tribal ballots in October,
and the Red Lake Band of Chippewa in northern Minnesota is conducting a
feasibility study on broad cannabis reform.
The Department of Justice says it will allow tribes to grow marijuana if certain enforcement triggers aren't tripped — such as sales to minors, involvement with
organized crime and the export of pot to jurisdictions where it's banned — and the policy only applies to federally recognized tribes.
Some states, such as Virginia, Ohio and Georgia, have no tribes with federal recognition, and in others states, such as California, Florida and New York, tribal lands are placed by Congress under state criminal jurisdiction, throwing up a potential roadblock.
But in many states, including some near major East Coast cities, there are tribes that could conceivably welcome outsiders to buy and use the drug on reservation land.

the rest of the story:
http://www.usnews.com/news/articles/2015/01/27/native-american-tribes-take-on-pot-consider-gamble-on-legalization
---
American Indians at European Contact
Originally published as "Earliest American Explorers: Adventure and Survival"
by John W. Kincheloe, III
Used with permission from Tar Heel Junior Historian 47: 1 (Fall 2007): 6-8, copyright North Carolina Museum of History.

European explorers came to the "New World" o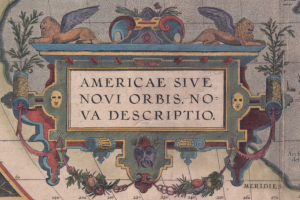 Detail from 16th century map. "Novi Orbis" is "new world" in Latin.f North America in the 1500s. Before that time, the continent was an unknown place to them. These adventurers saw it as an entirely new land, with animals and plants to discover. They also met new people in this exciting New World—people with fascinating lifeways that the Europeans had never seen and languages they had never heard. This New World for Europeans was actually a very old world for the various people they met in North America. Today we call those people American Indians.
Archaeologists tell us that American Indians may have been on the North American continent for fifty thousand years. They were the first Americans, and they were great explorers, too. They didn't come to this continent all at once. It is thought that these ancient adventurers arrived at different times, over several thousands of years. They journeyed from Asia on foot or by boat. Their explorations took them through icy landscapes and along the coastlines. Eventually these earliest American explorers spread out over the entire continent.
Over time, their lives changed as they adapted to different environments. American Indians were creative. They found ways to live in deserts, in forests, along the oceans, and on the grassy prairies. Native peoples were great hunters and productive farmers. They built towns and traded over large distances with other tribes. These were the people the European explorers met when their ships landed in America.

read more at: http://ncpedia.org/history/early/contact
---
'I have a dream for all God's children,'
Martin Luther King Jr. Day
Roy Cook Editor
Those who still think that Martin Luther King Jr.'s message of social justice and equality for all people applies only to members of King's own race must never have heard of John Echohawk.
Echohawk, a member of the Pawnee Tribe and executive director of the Native American Rights Fund, has been a leading legal and political advocate for the sovereign rights of Native American tribes for more than three decades - thanks to the influence of King.
"This principle of tribal sovereignty was one that captured our imaginations, and we saw great potential in enforcing this legal right in the political climate of the 1960s," Echohawk said. "It was a controversial avenue to pursue, because the federal government's policy relating to Indian tribes at that time was one of terminating our tribes, doing away with our relationship with the federal government and placing us under state jurisdiction—all against our will without our consent.
"Inspired by Dr. King, who was advancing the civil rights agenda of equality under the laws of this country, w
"Inspired by Dr. King, who was advancing the civil rights agenda of equality under the laws of this country, we thought that we could also use the laws to advance our Indianship, to live as tribes in our territories governed by our own laws under the principles of tribal sovereignty that had been with us ever since 1831. We believed that we could fight for a policy of self-determination that was consistent with U.S. law and that we could govern our own affairs, define our own ways and continue to survive in this society."
In 1970, Echohawk and others did just that by organizing the Native American Rights Fund (NARF), which was modeled after the NAACP's Legal Defense and Education Fund. For the past 30 years, NARF has served as a political advocate and legal defender of Native American tribal nations in cases pertaining to tribal sovereignty and treaty enforcement; land, water and fishing rights; religious and cultural freedoms; and, among others, issues of taxation, gaming and Indian trust monies.
He thought that we could also use the laws to advance our Indianship, to live as tribes in our territories governed by our own laws under the principles of tribal sovereignty that had been with us ever since 1831. We believed that we could fight for a policy of self-determination that was consistent with U.S. law and that we could govern our own affairs, define our own ways and continue to survive in this society."
In 1970, Echohawk and others did just that by organizing the Native American Rights Fund (NARF), which was modeled after the NAACP's Legal Defense and Education Fund. For the past 30 years, NARF has served as a political advocate and legal defender of Native American tribal nations in cases pertaining to tribal sovereignty and treaty enforcement; land, water and fishing rights; religious and cultural freedoms; and, among others, issues of taxation, gaming and Indian trust monies.
MLK legacy review:
"Martin Luther King was ready, then, early in December, 1955, to accept the leadership of the first great Negro nonviolent demonstration of contemporary times in the United States, the bus boycott described by Gunnar Jahn in his presentation speech in honor of the laureate. The boycott lasted 382 days. On December 21, 1956, after the Supreme Court of the United States had declared unconstitutional the laws requiring segregation on buses, Negroes and whites rode the buses as equals. During these days of boycott, King was arrested, his home was bombed, he was subjected to personal abuse, but at the same time he emerged as a Negro leader of the first rank." http://www.nobelprize.org/nobel_prizes/peace/laureates/1964/king-bio.html
"Harris Wofford was an early supporter of the Civil Rights movement in the Deep South in the late 1950s and became a friend and unofficial advisor to Martin Luther King. In 1957 Wofford arranged for King to visit India. According to Coretta King, after this trip her husband "constantly pondered how to apply Gandhian principles in America." In 1957 King joined with the Reverend Ralph David Abernathy and Bayard Rustin to form the Southern Christian Leadership Conference (SCLC). The new organization was committed to using nonviolence in the struggle for civil rights, and SCLC adopted the motto: "Not one hair of one head of one person should be harmed."
There had been a long tradition of nonviolent resistance to racism in the United States. Frederick Douglass had advocated these methods during the fight against slavery. Other black leaders such as Philip Randolph and Bayard Rustin had successfully used nonviolence against racism in the 1940s. The importance of the SCLC was that now the black church, a powerful organization in the South, was to become fully involved in the struggle for civil rights.
In 1957 he was elected president of the Southern Christian Leadership Conference, an organization formed to provide new leadership for the now burgeoning civil rights movement. The ideals for this organization he took from Christianity; its operational techniques from Gandhi. In the eleven-year period between 1957 and 1968, King traveled over six million miles and spoke over twenty-five hundred times, appearing wherever there was injustice, protest, and action; and meanwhile he wrote five books as well as numerous articles. In these years, he led a massive protest in Birmingham, Alabama, that caught the attention of the entire world, providing what he called a coalition of conscience. And inspiring his "Letter from a Birmingham Jail", a manifesto of the Negro revolution; he planned the drives in Alabama for the registration of Negroes as voters." http://www.spartacus.schoolnet.co.uk/USAkingML.htm
"He directed the peaceful march on Washington, D.C., of 250,000 people to whom he delivered his address, "l Have a Dream":
"I have a dream that one day every valley shall be exalted, every hill and mountain shall be made low, the rough place will be made plains, and the crooked places will be made straight, and the glory of the Lord shall be revealed, and all flesh shall see it together.
This is our hope. This is the faith with which I return to the South. With this faith we will be able to hew out of the mountain of despair a stone of hope. With this faith we will be able to transform the jangling discords of our nation into a beautiful symphony of brotherhood. With this faith we will be able to work together, to pray together, to struggle together, to go to jail together, to stand up for freedom together, knowing that we will be free one day. This will be the day when all of God's children will be able to sing with new meaning.
My country, 'tis of thee,
Sweet land of liberty,
of thee I sing:
Land where my father's died,
Land of the pilgrim's pride,
from every mountainside
Let freedom ring.
http://abcnews.go.com/Politics/martin-luther-kings-speech-dream-full-text/story?id=14358231#.TwO2NlsWEtE
And if America is to be a great nation this must become true."
At the age of thirty-five, Martin Luther King, Jr., was the youngest man to have received the Nobel Peace Prize. When notified of his selection, he announced that he would turn over the prize money of $54,123 to the furtherance of the civil rights movement.
Earlier in the 20th century messages of truth could only be conveyed in a non-confrontational comic-trickster context.
In Zora Neale Hurston's essay on High John de Conquer, a mythic black figure who pre-dates John Henry and Stagger (or Stack-o) Lee. High John's weapons are laughter and song. And speed. High John is fast, as Hurston writes in Zora Neale Hurston's The Sanctified Church:
High John de Conquer came to be a man, and a mighty man at that. But he was not a natural man in the beginning. First off, he was a whisper, a will to hope, a wish to find something worthy of laughter and song. Then the whisper put on flesh. His footsteps sounded across the world in a low but musical rhythm as if the world he walked on was a singing-drum. Black people had an irresistible impulse to laugh. High John the Conquer was a man in full, and had come to live and work on the plantations, and all of the slave folks knew him in the flesh.
The sign of his man was a laugh, and his singing-symbol was a drum. No parading drum-shout like soldiers out for show. It did not call to the feet of those who were fixed to hear it. It was an inside thing to live by. It was sure to be heard when and where the work was hardest, and the lot the most cruel. It helped the slaves endure. They knew that something better was coming. So they laughed in the face of things and sang, "I'm so glad! Trouble don't last always." And the white people who heard them were struck dumb that they could laugh. In an outside way, this was Old Massa's fun, so what was Old Cuffy laughing for?
Old Massa couldn't know, of course, but High John de Conquer was there walking his plantation like a natural man.
Maybe he was in Texas when the lash fell on a slave in Alabama, but before the blood was dry on the back, he was there. A faint pulsing of a drum like a goat-skin stretched over a heart, that came nearer and closer, then sombody in the saddened quarters would feel like laughing and say, "Now High John de Conquer, Old Mass couldn't get the best of him. That old John was a case!" Then everybody began to smile.
It's about story — a story that came from Africa that sustained the slaves and their descendents for generations. It's about song — songs that came from Africa and enveloped the best of the Christian faith and withstood the dogs and water cannons in Birmingham. It's about laughter — laughter that came from Africa and enabled blacks in the Jim Crow south to laugh secretly at those who spent most of their waking moments trying to figure out ways to crush High John and the millions like him.
It is no accident, Hurston writes, High John de Conquer has evaded the ears of white people. They were not supposed to know. You can't know what folks won't tell you.
And so it is with what this music provided that enabled them to challenge the most powerful nation on the planet armed only with love and justice. It's all there in those on spirituals and those unstoppable gospel songs, the stories, the laughter and the music.
Zora Neale Hurston is considered one of the pre-eminent writers of twentieth-century African-American literature. Hurston was closely associated with the Harlem Renaissance and has influenced such writers as Ralph Ellison, Toni Morrison, Gayle Jones, Alice Walker, and Toni Cade Bambara.
Finally, Native Americans have much to acknowledge regarding the ability to live as tribes in our territories governed by our own laws under the principles of tribal sovereignty. We honor the leadership of Martin Luther King Jr. Nation-hood is a mighty power and freedom for many Native Americans.
Sources: http://www.sol.com.au/kor/15_01.htm
---
In Solidarity with Indigenous Peoples
By Laura Finley, Ph.D.
Last I heard, contracts negotiated between two consenting and capable parties are supposed to be binding, with repercussions if one party violates what has been agreed upon and codified into a legal document. That is, of course, unless it is the state entering into such agreements with indigenous peoples.

Then these legal documents are little more than lip-service, or so it seems, based on the actions of the U.S., Canadian, and other governments who have and continued to trample the rights of indigenous peoples with impunity. Instead of being held accountable to the legally binding agreements they have signed, these governments continue to deprive indigenous peoples of their land, their livelihoods, and their cultures. Worse yet, they have the gall to point the finger at indigenous peoples and their allies who resist this continued destruction of their land and resources, calling them the criminals.
The United States government has negotiated some 600 treaties with Native people, most of which it has violated. As just one example, were it to have adhered to its own agreement, the Lakota Nation would have encompassed much of the western Midwest (and some of the easternmost region of what we now call the West), with the vast resources offered by the land and water in that region. Instead, many Lakota live on reservations (or prisoner of war camps, as they might be called) like Pine Ridge, which is annually one of the most impoverished places in the United States. Unemployment rates run around 70 percent, and as of 2011, almost 50 percent of Pine Ridge residents live below the federal poverty line. Like a third-world country, life expectancy rates hover in the later 40s and early 50s, in stark contrast to the rest of the U.S, where the average women lives to be 81 and the average man to 76. But, when Native peoples have organized, like the American Indian Movement did in the 1960s and 1970s, they are presented as a threat, not as part of the solution.
---
Canada has done no better. Instead of honoring its agreements to indigenous groups, the Canadian government has stolen the land and poisoned the water, soil, and air in which many from the First Nations live. On October 15, 2013, United Nations special rapporteur on the rights of indigenous peoples James Anaya issued a scathing report, noting that 20 percent of aboriginal peoples in Canada live in homes in need of serious repairs and that the suicide rate among aboriginal youth is five times greater than that of all Canadians. Anaya called the situation a "crisis," and, among other factors, traced it back to Canadian government policies that broke up homes and destroyed indigenous cultures by sending indigenous youth to horrific boarding schools where they were forced to become as White as possible.
But, instead of critically reflecting on Anaya's report, the Canadian government elected to further oppress this already marginalized group. Just days ago, when indigenous peoples and their allies organized to protest fracking in New Brunswick (a natural gas extraction process that devastates the land and groundwater) the RCMP responded with force. Instead of listening to the voices of indigenous peoples about the Tar Sands pipelines, the Canadian government has criminalized their voices and continues to plunder on.
So, while the U.S. and Canada are two of the wealthiest nations in the world, both should bear the responsibility and pay the price for becoming so through the extraction of resources and land that did not and does not belong to them.
Indigenous people and their supporters have not and will not be silent about these issues. Groups like Idle No More have organized, taken to the streets, and used traditional indigenous dance and culture as well as teach-ins and other nonviolent direct action to organize communities to speak out about the repressive policies. I was fortunate to hear from representatives from Idle No More recently and to participate in one of their rallies. To call it a humbling experience is an understatement.
For readers who are not familiar with these histories, I implore you to educate yourself. There is far more to the story than I have presented here. When you do, you too will be outraged, and hopefully called to act, to support indigenous peoples as they fight to regain that which is lawfully theirs and to ensure they can raise their children in non-toxic environments. It is the least we can do.
—end—
Laura Finley, Ph.D., teaches in the Barry University Department of Sociology & Criminology and is syndicated by
PeaceVoice.
---
Peace and War: Native Ground
http://thepeaceresource.wordpress.com/2013/09/24/nativeamericanholocaust/
Native American tribes have been shamefully misused and abused by settlers, colonists, thugs, and others. In spite of this history of shameful, painful, and tragic mistreatment, many people survive. And it's time to set things right.
The American Indian Movement and other tribal collectives are
working with everyday people to restore peace, justice & freedom.
Native Americans have the highest mortality rate of any U.S. minority because of U.S. action and policy. The biggest killers though were smallpox, measles, influenza, whooping cough, diphtheria, typhus, bubonic plague, cholera, and scarlet fever. All imported by the Europeans colonists.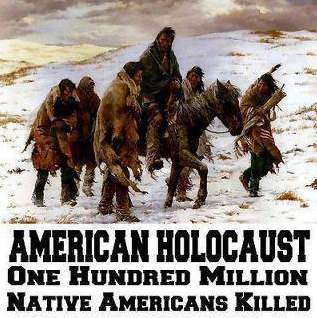 But murders and mayhem which took place, above and beyond these deaths, are the most horrific consequence of the European invasion, occupation, and exploitation.
Two studies have been conducted that attempt to number the native people killed by colonists, settlers, racists, and the US military in the United States.
The first study was sponsored by the United States government, and while official, does not stand up to scrutiny: even this biased accounting admits to between 1 million to 4 million deaths.
The second study was not sponsored by the US Government but was done by independent researchers. This study estimated populations and population reductions using documented census data and the most accurate objective records.
Two figures are given, both low and high: between 10 million and 114 million Indians died as a direct result of US actions. (Some by violence and many by imported disease)
Note: Given the fragmentary nature of the evidence, even semi-accurate pre-Columbian population figures are impossible to obtain. Estimates are made by extrapolations from small bits of data. In 1976, geographer William Denevan used the existing estimates to derive a "consensus count" of about 54 million people. If this were true, then more than
50 million died from disease, murder, war, hunger, or other causes.
Note that Nazi Holocaust estimates are between 6 and 11 million; thereby making the Nazi regime responsible for the 2nd largest mass murder of a class of people in history.
REF:
American Holocaust: D. Stannard (Oxford Press, 1992) – "over 100 million killed"
"One could reasonably argue that the Turkish pogrom against the Armenians during World War I qualifies as a crime against humanity, as does the United States' ethnic cleansing of Native Americans."
Sebastian Junger
The time has come for peace, justice, and liberation.
---
"People have only as much liberty as they have the intelligence to want
and the courage to take."
Emma Goldman
---