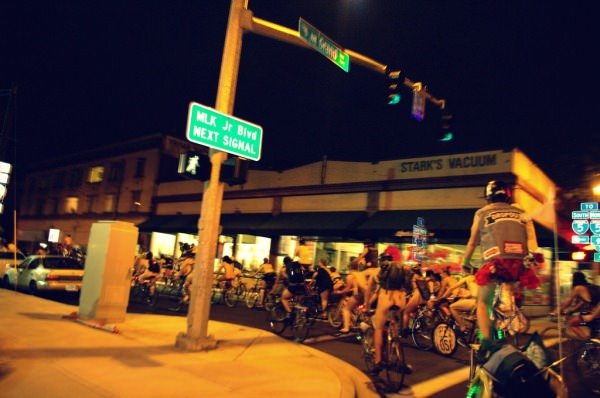 Portland Naked Bike Ride Photo at left by farrell anna
Oregon's biggest pay-what-you-will bike ride of the year, which also happens to be the largest clothing-optional bike ride in the world, will start rolling June 7 at 8 p.m.
The 2014 edition of Portland's World Naked Bike Ride will begin in a new location:
Normandale Park on NE Halsey between 55th & 57th Avenues. It's a few blocks northwest of the 60th Avenue Green/Red/Blue MAX stop.
Saturday, June 15th, 2013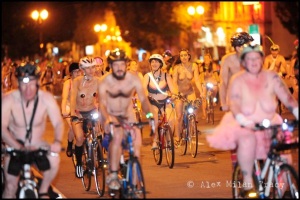 Portland's World Naked Bike Ride broke a record in 2013 with an estimated 8,150 participants.
The last two years, ride organizers put the number of riders at 4,500 and 4,200 people respectively — so this is a substantial increase. The count was performed by volunteers who sat down tonight and watched video taken of the ride last Saturday. Ride organizers installed an overhead video camera on SW Jefferson just past the starting point of the route specifically to document the turnout
---