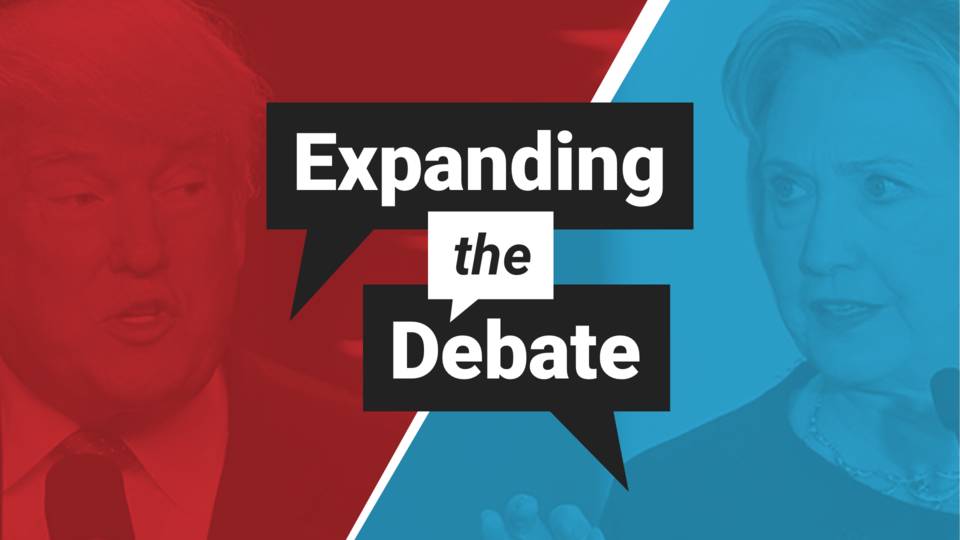 Topics
2016 Election This broadcast will include the live debate between Republican presidential candidate Donald Trump and Democratic presidential candidate Hillary Clinton.
How to Watch
Stream LIVE starting at 8:30pm ET at democracynow.org/debate or tune in live nationwide on Free Speech TV (Dish Network Ch. 9415 & DirecTV Ch. 348), KCET/Link TV (Dish Network 9410 & DirecTV Ch. 375) & MNN in Manhattan (Time Warner Cable 1993 and Verizon FiOS 38).
Tuesday Morning September 27: Democracy Now!'s Expanded 2-Hour Post Debate Coverage starting at 8:00 am ET.
Tune in on Tuesday, September 27th for a special 2-hour broadcast of Democracy Now! from 8:00 am–10:00 am ET. We've invited Green Party candidate Jill Stein and Libertarian candidate Gary Johnson to participate in a special expanded presidential debate.
As Hillary Clinton and Donald Trump square off in a series of debates in one of the most polarized U.S. elections to date, Democracy Now! has broken the sound barrier by expanding the debate—including major third party candidates shut out by the corporate-sponsored Commission on Presidential Debates (CPD).