Melody Ballroom, 615 SE Alder St., Portland
Wednesday, April 6, 7:00 pm
Members always Free – Non-members $3.00
Opening Acoustic Set – Thad Beckman
Second Electric Set – Kenny Lee & The Sundowners
Hard to believe that we're already rolling into April. Seems like just yesterday that we started the new year. Maybe it's because of so much great blues happening in our area that the months just seem to be running into one another quickly. And, lucky for us, there's no end to it in sight. Of course, we all know that the Cascade Blues Association is going to do its part in helping to provide at least one date every month you can count on for bringing exciting blues your way. That happens again this month in The Melody Ballroom at our General Membership Meeting where the Association always brings in the acts you love or should be aware of. And that's not going to change in April as we have a spectacular couple of acts in line for everybody.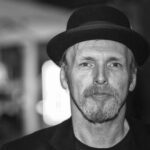 Opening the evening will be an artist that recently returned to the Portland area after a short hiatus living in Colorado. Thad Beckman is without question one of the finest acoustic guitarists around, but his career has spread far beyond just working as a solo artist. Beckman has worked for a number of years partnered with singer/songwriter Tom Russell touring throughout the country, Canada, and Europe as well as performing on television. He has also performed with a number of R&B bands including work with Bo Diddley and Earl Thomas, and has opened for such renowned artists as BB King, Albert Collins, Emmylou Harris, The Band, James Cotton, and many others. A creative songwriter himself, he has eight solo albums to his credit including his most recent, Streets Of Disaster, and an instructional book on playing guitar, as he also teaches guitar and does producing for others when not performing.
Perhaps Jim Beal of The San Antonio Express News best describes Thad Beckman when he writes that "Beckman plays an engaging blend of folk, singer-songwriter and blues music. Not everyone can pull off such a combination, but Beckman has chops, writing talent, and a bag full of true stories which all dovetail for a cool show."
Joining Thad Beckman for this set will be harmonica ace Kurtis Piltz. These two often work together and have a connection that is right on target every time they work as a tandem.
The second set of the meeting will see the return of a band that has not performed for us for a while and has been totally revamped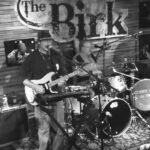 into an even better outfit than before — Kenny Lee & The Sundowners. Its ReverbNation biography describes Kenny Lee as "an Outlaw of Consciousness. Armed with his guitar, the simplicity of his song and the integrity of his soul, he is an outlaw runnin' against the winds of inhumanity, injustice and the crimes against Mother Earth and her inhabitants. True to his roots, his music captures the human condition in down home words. Kenny Lee also has a very special relationship with the lap steel. He doesn't play the lap steel, he makes love to the music in the soul of the instrument. For those present in the magic of those moments, it is a beauty beyond description. Backing him up is the rythym section of Marcos Ferraz on Bass, Alan Wicks on Drums and Ken M (Mortellaro) on guitar. "
The band has been together in one form or another since 1992, with their most recent recording titled Outlaw which has received airplay throughout the area. When you come to a Sundowners show, you'll hear blues standards that have been stamped with the band's imprint, some classic rock tunes, and many original songs. You may notice a Hank Jr. sound along with some funk and a lot of Jimi Hendrix, that adds a psychedelic element to the music. There is a lot of influences behind the musicians in the band, so expect a high energy performance, great for dancing or just rockin' out!
In between sets we'll hold our regular free ticket drawing and alert you to the happenings in the area for the month. Don't forget your ticket at the door when you enter for your chance to win great prizes.
Don't forget, if you're planning on participating in this year's Journey To Memphis competition to earn the right to represent the CBA in Memphis at the International Blues Challenge, you must turn in your application no later than this meeting.
Special Note: Please respect the artists performing. Many of them wait for up to a year to have the chance to play for you. It is a great time to catch up with friends who you may only see once a month, but if you do want to talk, please step out to the foyer so others may enjoy the talent of the musicians playing for us. Thank you and we'll see you at the meeting!