Sorry we are a week late. To help with writing, editing and publication of the monthly issues, please contact editor@thePortlandAlliance.org
We need editors for the Poetry Page, PDX Art, Community Calendar and more. Another way to help is to Donate! http://www.theportlandalliance.org/donate
Vol. XXXIV, Number 10

October

2015
http://www.ThePortlandAlliance.org/2015/October
|About Us | Subscribe | Contact Submission info | Volunteer ThePortlandAlliance.org/afewwords Letters to the editor
ThePortlandAlliance.org/
communitycalendar
ThePortlandAlliance.org/
olderletterstoeditor
Speaking Truth to Power Since 1981
Previous Issues: 2015 Sept Aug July June May April March, February, January 2014 Jan, Feb, Mar, Apr, May, June, July, Aug, Sept, Oct, Nov, Dec 2013 Dec Nov Oct Older Issues
---

Lots of Poetry!

ThePortlandAlliance.org/MaryOtte
New Poetry from Mary Ought Six

http://www.ThePortlandAlliance.org/moreaboutmary new!
Walidah Imarisha

Two Poems by Walidah

---

ARTS










Stephen Paul McCandless, a Pacific NW artist, works with mixed media on various surfaces, creating intricately detailed surrealistic images.

ThePortlandAlliance.org/mccandless

---

Commentary by
Nancy Weaver

ThePortlandAlliance.org/weaver

What am I talking about?

---

Call them what they are, Monsters!
ThePortlandAlliance.org/monsters

---

Accepting Submissions!
WordsmithCollection

Active Community,
Cartoons, Cartoons by Shannon Wheeler, Clyde List, & Steve Amy

Commentary, Critiques,
Letters, and more!

---

Arts & Culture
Visual Arts, Music,
Theatre,
Cartoons, Movies,
Books, Writing

---

Community Calendar

Local actions, events, rallies, etc.

---

by Yugen Fardan Rashad

---

---

By Norman Solomon

---

Mainstream Media
Distortion

Picture of Michael Munk Tribune Photo L. E. Baskow

---

Peter C. Little: Alliance Photographer

---

---

---
Jobs
theportlandalliance.org/jobs
Idealist Jobs Portal
theportlandalliance.org/idealist
Help Support Alternative Media!
Navigation:
FrontPage / Activism /
BlogPortal / Calendar /
Ongoing Calendar Events
Donate / Flyer/
Pictures on Picasso:
picasaweb.google.com/
theportlandalliance /
PDX Music /
Poster / Subscribe /
Place Ad / Ad Rates /
Online Ads /
Advertising /
Twitter / News! /
Previous Issues /
Blog/ Myspace /
Facebook1 / Facebook2
Waterfront Blues Fest
Alliance on YouTube:
youtube.com/theportlandallianceBlog/ Myspace /
Facebook1 / Facebook2
Waterfront Blues Fest
Alliance on YouTube:
youtube.com/theportlandalliance

Features:
Joe Anybody!
Active Community /
A Few Words /

---
Revolutionary Moments…
Ronnie Reagan, George Herbert Walker Bush, Bill Clinton, George W. Bush, Barack Obama, Hillary Clinton, Jon Ellis (JEB) Bush and Bernie Sanders are ALL on the same page when it comes to Gaza, wars of choice, capitalism and the military-industrial complex.
If you want more war, then vote for the corporate core: Republicans support the Fortune 500 and brag about it… and the Democrats support the same cons and used to lie about it. But this week, Obama and the Democrats threw us under the bus. checkout the rest:
/www.ThePortlandAlliance.org/afewwords
---
Arts & Culture /
Book Reviews! /
Breaking News /
Cartoons / Steve Amy /
Too Much Coffee Man /
Community Calendar /
Cover The Real News! /
Fifth Monday LaborRadio!
Jobs / Labor History /
Letters / Music /
NewsBytes /
Poetry/
Mike Hastie Poetics
Progressive Directory /
Secret Society /
Viewpoints & Commentary
Columns:
William Beeman /
Ellen Brown /
Shamus Cooke /
Tom Engelhardt /
Tom H. Hastings theportlandalliance.org/hastings
~~~~~~~~~~~~~~~~~~~~
Salt and Terror in Afghanistan
by Kathy Kelly
In late January in a room in Kabul, Afghanistan, I joined several dozen people, working seamstresses, some college students, socially engaged teenagers and a few visiting internationals like myself, to discuss world hunger. Our emphasis was not exclusively on their own country's worsening hunger problems. The Afghan Peace Volunteers, in whose home we were meeting, draw strength from looking beyond their own very real struggles.
Kucinich /
Michael Munk /
Myers / Military Personnel
Cheating on tests!
William Reed /
Mark Schwebke /
Norman Solomon /
Vorpahl /
Lawrence S. Wittner
---
Partners: ACLU
AFD / AFL-CIO
Alliance for Democracy
AMA / Backspace
B-MediaCollective Bread&Roses /
CIO / CAUSA/
CLG / Code Pink
Common Dreams /
CWA / DIA /
Democracy Now /
First Unitarian Church
FSP /ISO /
Jobs w\ Justice /
KBOO /Labor Radio /
LGBTQ / MRG / Milagro /
Mobile T's Cover the News
Mosaic / Move-On /
NWLaborPress
Occupy /OEA /
Occupy PDX /
Oregon Peace & Justice /
Peace House
Peace worker /
PCASC / PPRC /
Right 2 Dream Too /
Sisters of The Road
Street Roots / Skanner /
SocialistAlternative.org /
SocialistWorker.org /
The Nation / TruthOut /
The 99%
Urban League /
VFP / Voz
We Are Oregon
Whitefeather
Witness for Peace /

Topics: A-F
Arts & Culture /
AIPAC / Beatles /
Books /
Bradley Manning /
Cartoons /
Civil Rights / Coal /
Death Penalty /
Department of Home Security /
Drones /
Economic Justice /
Education /
Election 2012 /
Fascism /
Fair Trade / F-29 /
Environment /
Film / Fluoridation
Foreclosure /
Topics: G-R
Health Care / Homeless / Iraq
J-Street / Jill Stein /
Justice Party / Middle East /
Music /
National Security Administration
Occupy Blog / Peace /
Persian / Police /
Post Office / Quotes
Topics: S-Z
STRIKE! / Theatre /
The Pongo Fund /
Torture / TPP /
Tri-Met / Union /
Unionresource / VDay /
Viewpoints
Visual Arts
Voices in Action
War & Peace /
Women / Writing /
WritingResource
Yell

---
---
From 2:08 a.m. until 3:15 a.m. on Saturday, October 3, the Doctors Without Borders/Médecins Sans Frontières (MSF) trauma hospital in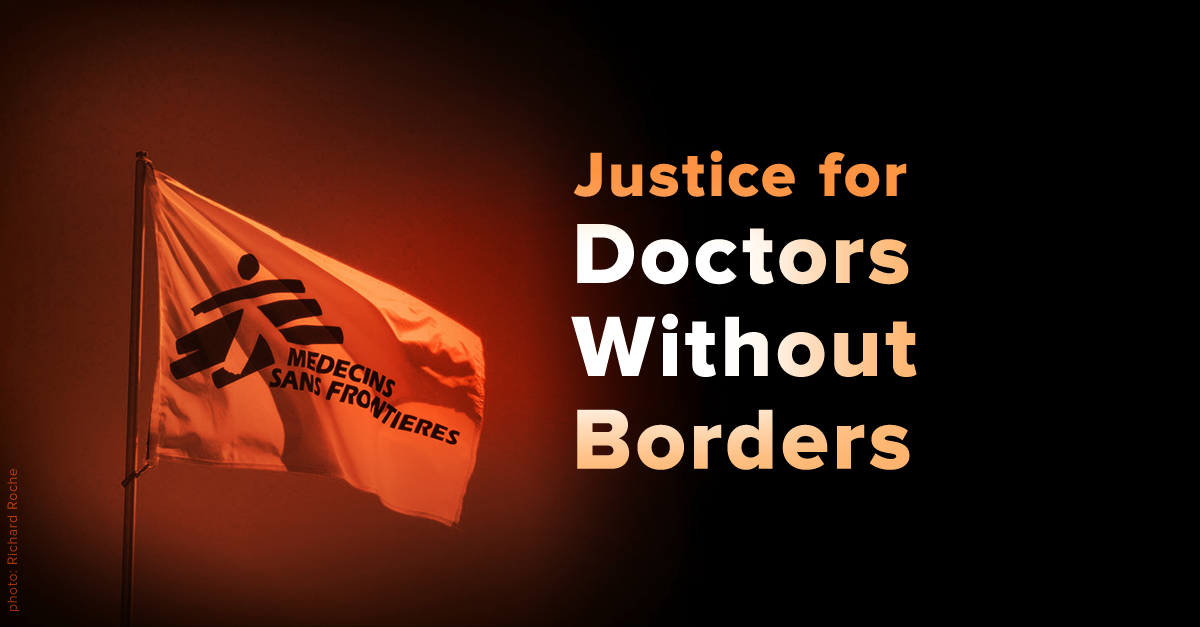 Kunduz, Afghanistan, was hit by a series of aerial bombing raids at approximately 15-minute intervals. The main hospital building, which housed the intensive care unit, emergency rooms, and physiotherapy ward, was hit with precision, repeatedly, during each aerial raid, while surrounding buildings were left mostly untouched.
Update, October 7, 2015
"We received President Obama's apology today for the attack against our trauma hospital in Afghanistan. However, we reiterate our ask that the US government consent to an independent investigation led by the International Humanitarian Fact-Finding Commission to establish what happened in Kunduz, how it happened, and why it happened."
More about this tragedy:
Alliance Portal to Doctors Without Borders
http://www.ThePortlandAlliance.org/DWB
---
OCTOBER 11
Rally at 1 p.m. March at 1:45 p.m.

Sunday, October 11

1:00pm

- 4:00pm
Call Out for Justice: End the Wars!
Viva La Revolution! find out more at The Peace Portal

http://www.ThePortlandAlliance.org/peace
---
Editors' note: Last Month we featured some pictures from the Labor Day event at Oaks Park Picnic Grounds. Here is a first-person story about that day. The story provides important perspectives about the struggle for justice...

Labor Day Experience

by Herschel Soles

Shortly after 9:30 AM, my sign ( Democratic Party Supports Israeli Genocide in Gaza)
and I entered the Oaks Park picnic grounds via the South central walk way. Jim Robison, former Multnomah County Democratic (MDC) Chair , environmental activist, and strong advocate for Single Payer Healthcare, gave me a smile as I walked down the pathway from the Southern entrance to the North West entrance.


http://www.ThePortlandAlliance.org/laborday
---
World Homeless Action Day 10-10-2015, Portland, Oregon

Saturday October 10th, 2pm
NW 8th Ave & West Burnside St, Portland, Oregon 97209
(Meet-up in Portland, Oregon's living room: Pioneer Square)
Homeless in America:
http://www.ThePortlandAlliance.org/homeless
---
Mantra for 9/11:
Exceptional Pain Dispensed
by the Indispensable Nation
Fourteen Years Later, Improbable World
(Photo: Cyril Attias/flickr/cc)
Fourteen years later and do you even believe it? Did we actually live it? Are we still living it? And how improbable is that?
Fourteen years of wars, interventions, assassinations, torture, kidnappings, black sites, the growth of the American national security state to monumental proportions, and the spread of Islamic extremism across much of the Greater Middle East and Africa. Fourteen years of astronomical expense, bombing campaigns galore, and a military-first foreign policy of repeated defeats, disappointments, and disasters. Fourteen years of a culture of fear in America, of endless alarms and warnings, as well as dire predictions of terrorist attacks. Fourteen years of the burial of American democracy (or rather its recreation as a billionaire's playground and a source of spectacle and entertainment but not governance). Fourteen years of the spread of secrecy, the classification of every document in sight, the fierce prosecution of whistleblowers, and a faith-based urge to keep Americans "secure" by leaving them in the dark about what their government is doing. Fourteen years of the demobilization of the citizenry. Fourteen years of the rise of the warrior corporation, the transformation of war and intelligence gathering into profit-making activities, and the flocking of countless private contractors to the Pentagon, the NSA, the CIA, and too many other parts of the national security state to keep track of. Fourteen years of our wars coming home in the form of PTSD, the militarization of the police, and the spread of war-zone technology like drones and stingrays to the "homeland." Fourteen years of that un-American word "homeland." Fourteen years of the expansion of surveillance of every kind and of the development of a global surveillance system whose reach -- from foreign leaders to tribal groups in the backlands of the planet -- would have stunned those running the totalitarian states of the twentieth century. Fourteen years of the financial starvation of America's infrastructure and still not a single mile of high-speed rail built anywhere in the country. Fourteen years in which to launch Afghan War 2.0, Iraq Wars 2.0 and 3.0, and Syria War 1.0. Fourteen years, that is, of the improbable made probable.
"All [the experience of September 11, 2001] opened us up to was bringing pain to others."

rest of the story: http://www.theportlandalliance.org/engelhardt
---
October Vigil for Keaton Otis
Date/Time
Monday, October 12, 2015 at 6:00 PM
Location
NE 6th and Halsey Portland, Oregon
more info:
at Keaton Otis Portal
http://www.ThePortlandAlliance.org/keatonotis
---
Do you feel minimum? What is minimum? The dictionary defines it as "the least possible amount." Is that the amount of money you should be making at work? I don't feel like a "minimum." And I don't like the term. Do you? How about the term decent wage? Or how about livable wage? All of these terms are confusing as all things in life are relative. What is a livable wage? When Donald Trump famously went bankrupt one of several times years back, the banks determined that he needed $30,000 a month to live on at his current and accustomed lifestyle. Donald DuPay doesn't need quite that much money to live on comfortably. I like the term decent wage the most. It seems more realistic and fairer, somehow. Read the rest of this piece:
http://www.ThePortlandAlliance.org/dupay
---
---
http://www.ThePortlandAlliance.org/blacklivesmatter
---
A new Black Panther documentary is about to hit theaters nationwide. And that's a good thing, because Americans generally doesn't wake up to anything unless they see it in a movie first.

In this light, check out this free documentary on the life and death of Fred Hampton, leader of the Illinois Black Panther Party who was murdered by Chicago police on Dec. 4, 1969 in collusion with the FBI's COINTEL program. Peoria Black Panther leader Mark Clark was also killed by police in that infamous raid.
---
And Checkout The Alliance Community Action Calendar ThePortlandAlliance.org/communitycalendar
---
AlternativeNewsResource.org/ Behind the Headlines... Oregon News Links
---
---
Shannon Wheeler's Too Much Coffee Man Portal at The Portland Alliance
---

life-creativity-faith-mystery-imagination-wisdom-love-joy-dreams-and-visions/
america-is-the-first-country-that-can-actually-have-a-bloodless-revolution-malcolm-x/
consciousness/ kindness/ on-creative-art/ love/
life-is-fine-enjoy-not-to-worry/ word/ courage/
https://thewordsmithcollection.wordpress.com/2013/11/14/a-community-magazine/
see-this/ scatter-joy/ spiritual-and-religious-ideas/
dreams-dreamers-and-dreaming/ /war-and-peace/
false-choices/ faith-life-blessings-and-joy/
stand-up-speak-out-take-action-contact-elected-officials/
---
---
We are walking the talk and producing a vehicle for progressive Portland. We must not let the mainstream media continue to ignore our community and provide inaccurate and dishonest versions of the news. Please send suggestions, critiques, copy-edits, breaking news, events, ideas... editor@theportlandalliance.org
Community Calendar: http://www.theportlandaliance.org/communitycalendar
---
Navigation: FrontPage / Activism / Interactive Calendar / Donate / Flyer / YouTube / Poster / Subscribe / Place Ad / Ad Rates / Online Ads / Advertising / Twitter / News! / Previous Issues / Blog/ Myspace / Facebook1 / Facebook2

Features: Active Community / A Few Words /Arts & Culture / Breaking News / Jobs / / Labor History / Music / NewsBytes / Progressive Directory / Cartoons / Community Calendar / Letters / Poetry / Viewpoints & Commentary

Columns: Beeman, Brown, Engelhardt / Kucinich / Munk / Myers / William Reed / Schwebke / Norman Solomon / Vorpahl / Wittner

Partners in Publishing Alternative News: AFD / AMA / Bread&Roses / CAUSA/ CLG / Common Dreams / DIA / FSP /ISO / Jobs w\ Justice / KBOO / Labor Radio / LGBTQ / MRG / Milagro / Mosaic / Move-On / Occupy / OEA / Occupy PDX / Peace House / The 99% / Peace worker / PCASC / PPRC / Right 2 Dream Too / Street Roots / Skanner / The Nation / TruthOut / Urban League / VFP / Voz /

Topics: A-F AIPAC / Civil Rights / Coal / Death Penalty / Education / Election 2012 / Fair Trade / F-29 / Environment / Foreclosure /

Topics: G-R Health / Homeless / J-Street / Middle East / Occupy Blog / Peace / Persian / Police / Post Office

Topics: S-Z STRIKE! / Tri-Met / Union / VDay / War & Peace / Women / Writing / WritingResource
---
Cell (for emergencies) 503-697-1670
For questions, comments, or suggestions for this site, please contact editor@theportlandalliance.org or ThePortlandAlliance@gmail.com
© 1981-2015 NAAME Northwest Alliance for Alternative Media & Education, dba The Portland Alliance:
All Rights Reserved. A 501C3 Oregon Non-profit Corporation for Public Benefit
Alliance archives at the International Peace Resource Center Library at 2228 W. Kent Ave. / Missoula, MT 59801
Support local media:
The Asian Reporter | B-Media | Kboo | The Oregon Peaceworker | Portland.Indymedia.org | The Skanner