Vol. XXXV, Number 1

January 2015
http://www.ThePortlandAlliance.org/2015/January
---
Lots of Poetry!
ThePortlandAlliance.org/MaryOtte
New Poetry from Mary Ought Six
Walidah Imarisha
Two Poems by Walidah
Buddy Bee
Three by Buddy Bee
and more...


ThePortlandAlliance.org/hastie

Living in America,
sometimes makes me think
I live in a luxurious concentration camp. I can have anything I want as long as I obey certain rules.

Accepting Submissions!
http://wordsmithcollection.blogspot.com/2013/06/accepting-submissions.html

---

Breaking News

How Privatization Perverts Education

---

Drone Killing the Fifth Amendment: How to Build a Post-Constitutional America One Death at a Time

Read the Article at TomDispatch

---

Excessive Radiation Levels Detected at New Mexico Waste Site

---

Active Community,
Cartoons, Cartoons by Shannon Wheeler, Clyde List, & Steve Amy

Commentary, Critiques,
Letters, and more!

---

Arts & Culture
Visual Arts, Music,
Theatre,
Cartoons, Movies,
Books, Writing

---

Community Calendar

Local actions, events, rallies, etc.

---

Eyes Wide Shut!

by Yugen Fardan Rashad

---

---

By Norman Solomon

---

Now the shoe is on the other foot. It is Obama defending the principle of "national sovereignty"while Putin is using the military "humanitarian intervention" rule promulgated most outspokenly by Obama's UN Ambassador Samantha Power and National Security Advisor Susan Rice.

Picture of Michael Munk Tribune Photo L. E. Baskow

---

Peter C. Little: Alliance Photographer

---

---

---
Jobs
theportlandalliance.org/jobs
Idealist Jobs Portal
theportlandalliance.org/idealist
Help Support Alternative Media!
Navigation:
FrontPage / Activism /
BlogPortal / Calendar /
Ongoing Calendar Events
Donate / Flyer/
Pictures on Picasso:
picasaweb.google.com/
theportlandalliance /
PDX Music /
Poster / Subscribe /
Place Ad / Ad Rates /
Online Ads /
Advertising /
Twitter / News! /
Previous Issues /
Blog/ Myspace /
Facebook1 / Facebook2
Waterfront Blues Fest
Alliance on YouTube:
youtube.com/theportlandallianceBlog/ Myspace /
Facebook1 / Facebook2
Waterfront Blues Fest
Alliance on YouTube:
youtube.com/theportlandalliance

Features:
Joe Anybody!
Active Community /
A Few Words /
Arts & Culture /
Book Reviews! /
Breaking News /
Cartoons / Steve Amy /
Too Much Coffee Man /
Community Calendar /
Cover The Real News! /
Fifth Monday LaborRadio!
Jobs / Labor History /
Letters / Music /
NewsBytes /
Poetry/
Mike Hastie Poetics
Progressive Directory /
Secret Society /
Viewpoints & Commentary
Columns:
William Beeman /
Ellen Brown /
Shamus Cooke /

Stumping for Justice in Stumptown
The Fight for $15 Finally Comes to Portland
Like the Occupy movement before it, the "fight for $15" came to Portland as a transplant. Portland activists watched events in Seattle with a skeptical eye, but Seattle's "fantasy" of $15 was transformed into an emerging reality, now replete with the support of the Mayor and City Council who are working on a plan to implement the new minimum wage.
Tom Engelhardt /
Tom H. Hastings theportlandalliance.org/hastings
~~~~~~~~~~~~~~~~~~~~
Salt and Terror in Afghanistan
by Kathy Kelly
In late January in a room in Kabul, Afghanistan, I joined several dozen people, working seamstresses, some college students, socially engaged teenagers and a few visiting internationals like myself, to discuss world hunger. Our emphasis was not exclusively on their own country's worsening hunger problems. The Afghan Peace Volunteers, in whose home we were meeting, draw strength from looking beyond their own very real struggles.
Theresa Kennedy-Dupay
Kucinich /
Michael Munk /
theportlandalliance.org/Munk
Obama won the '08 primary because he opposed the invasion while Hillary defended it. He tried to keep the US occupation going but the Iraqis
refused to immunize US troops who commit war crimes as Obama demanded. Any Obamatons left after this disgraceful rant?-MM
Myers / Military Personnel
Cheating on tests!
William Reed /
Mark Schwebke /
Norman Solomon /
Vorpahl /
Lawrence S. Wittner
---
Partners
AND/OR Peacemakers:
ACLU
AFD / AFL-CIO
Alliance for Democracy
AMA / Backspace
B-MediaCollective
Bread&Roses /
CIO / CAUSA/
CLG / Code Pink
Common Dreams /
CWA / DIA /
Democracy Now /
First Unitarian Church
FSP /ISO /
Jobs w\ Justice /
KBOO /Labor Radio /
LGBTQ / MRG / Milagro /
Mobile T's Cover the News
Mosaic / Move-On /
NWLaborPress
Occupy /OEA /
Occupy PDX /
Oregon Peace & Justice /
Peace House
Peace worker /
PCASC / PPRC /
Right 2 Dream Too /
Sisters of The Road
Street Roots / Skanner /
SocialistAlternative.org /
SocialistWorker.org /
The Nation / TruthOut /
The 99%
Urban League /
VFP / Voz
We Are Oregon
Whitefeather
Witness for Peace /

Topics: A-F
Arts & Culture /
AIPAC / Beatles /
Books /
Bradley Manning /
Cartoons /
Civil Rights / Coal /
Death Penalty /
Department of Home Security /
Drones /
Economic Justice /
Education /
Election 2012 /
Fascism /
Fair Trade / F-29 /
Environment /
Film / Fluoridation
Foreclosure /
Topics: G-R
Health Care / Homeless / Iraq
J-Street / Jill Stein /
Justice Party / Middle East /
Music /
National Security Administration
Occupy Blog / Peace /
Persian / Police /
Post Office / Quotes
Topics: S-Z
STRIKE! / Theatre /
The Pongo Fund /
Torture / TPP /
Tri-Met / Union /
Unionresource / VDay /
Viewpoints
Visual Arts
Voices in Action
War & Peace /
Women / Writing /
WritingResource
Yell

Scroll Down: Healthcare, War & Peace, Earth Day-Mayday, Wal-mart, Postal, News Bytes, Immigration, etc.
---
Martin Luther King
was assassinated
by the
United States Government according
to the
King Family
civil trial verdict



"Coretta Scott King: "We have done what we can to reveal the truth, and we now urge you as members of the media, and we call upon elected officials, and other persons of influence to do what they can to share the revelation of this case to the widest possible audience."
– King Family Press Conference, Dec. 9, 1999.
Dr. Martin Luther King's family and personal friend/attorney, William F. Pepper, won a civil trial that found US government agencies guilty of assassination/wrongful death. The 1999 trial,
King Family versus Jowers and Other Unknown Co-Conspirators,
is the only trial ever conducted on the assassination of Dr. King:
the rest of the story:
http://www.ThePortlandAlliance.org/MartinLutherKing
Remember Rev. Dr. Martin Luther King Jr.
King sought workers' justice and dignity
more information: http://www.ThePortlandAlliance.org/mlk
---
The rise of the #BlackLivesMatter movement
The inspiring resistance in the streets of Ferguson has gone national since last August. In a document written for discussion--and finished before the shootings of two NYPD offers faced activists with a right-wing backlash--Keeanga-Yamahtta Taylor explains the background for this upsurge and analyzes the movement that has taken new shape over the last months of the year. Here, we print excerpts from that document, edited for general publication.
Chicagoans take the streets to declare that Black Lives Matter

A MOVEMENT has erupted against police brutality and shaken U.S. society to its core.
checkout the rest of the story here: http://www.ThePortlandAlliance.org/socialistworker
---
It's Not Just the Cops
Public defenders know that the trouble with our justice system extends far beyond abusive policing
One has to admire the way we, as a country, have paid tribute to the lives of Rafael Ramos and Wenijan Liu, the two New York police officers shot to death while sitting in their police cruiser. We have rallied to support their families across ideological lines, demanding that they be remembered with dignity and honor.
But, juxtaposed against continued protests over police mistreatment of black men, they also help to highlight the fact that other lives are not valued at all.
Michael Brown was left dead in the street for four hours after being shot by a Ferguson, Missouri, police officer. Eric Garner lay dying on a sidewalk after being choked in Staten Island, surrounded by the NYPD police officers who exhibited no sense of urgency to help him. Tamir Rice, a 12-year-old boy, was playing with a toy gun when he was shot dead less than two minutes after being confronted by a Cleveland police officer.
Rather than unifying in similar grief over these deaths, news outlets helped to justify the killings by dehumanizing the victims
read more: http://www.theportlandalliance.org/thenation
---
Published on Jan 7, 2015
St. Louis, MO – On January 5, 2015, this press conference was held at The Ambassador in St. Louis to announce that the Black People's Grand Jury voted 11 to 1 to indict former Ferguson police officer Darren Wilson on charges of first degree murder in the August 9, 2014 shooting death of Michael Brown, an unarmed 18-year-old black civilian.

Check out Chairman Omali Yeshitela's summation of these historic proceedings marking a new day in the struggle for self-determination and self-government for colonized African people.

Now it's time to organize for "Black Community Control of the Police"!. For more information, contact the International People's Democratic Uhuru Movement at 727-914-3619 or 727-3018143
St. Louis, MO - On January 4, 2015, the Black People's Grand Jury voted 11 to 1 to indict former Ferguson police officer Darren Wilson on charges of first degree murder in the August 9, 2014 shooting death of Michael Brown, an unarmed 18-year-old black civilian.
Unlike the "behind closed doors" white people's grand jury that exonerated the killer cop, the Black People's Grand Jury was a transparent process, free and open to the public who attended the proceedings as they were conducted at The New Ambassador center in St. Louis, and broadcast live on UhuruNews.com for the world to see.
The proceedings opened with statements from Lead People's Prosecutor and People's Advocate Chairman Omali Yeshitela, along with Assistant Prosecutors Attorney Aaron O'Neal of Washington, D.C. and Attorney Alex Morley of The Bahamas.
In his opening statement, Lead Prosecutor Omali Yeshitela brought out the fact that African people "can and must take matters into our own hands" following the "no true bill" determination of the St. Louis County grand jury under prosecutor Robert McCulloch that failed to indict Wilson.
Yeshitela stated that the convening of the Black People's Grand Jury represents a criticism of the McCulloch's grand jury. He exposed multiple breaches in McCulloch's grand jury process, including the fact that McCulloch knew that Witness 40, Sandra McElroy lied during her two-day testimony. McCulloch was aware that McElroy is a known racist who was not present at the murder site and who openly backed and raised money for Darren Wilson yet he included her as a witness.
---
Police ticket man run over during 'Don't shoot' protest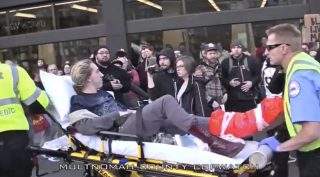 more info at: http://www.ThePortlandAlliance.org/dontshoot
Guilty for "improper position on a highway".
(Still from Multnomah County Copwatch video)
Portland Police have issued a ticket to a protestor who was taking part in a march downtown yesterday.
The march was organized by Don't Shoot PDX, a group of activists who have organized a sustained movement for more police accountability and justice following protests in Ferguson, Missouri.
According to people involved with the march, there was a collision on West Burnside near Powell's Books between someone driving a car and one of the marchers. A man who has uploaded video footage from the scene alleges that the driver swerved into protestors and yelled, "Get a job" before running over a man's foot. The driver did not stop.
---
Sterling Trial Opens in Security-State Matrix
January 14, 2015
When the trial of former CIA officer Jeffrey Sterling got underway Tuesday in Northern Virginia, prospective jurors made routine references to "three-letter agencies" and alphabet-soup categories of security clearances. In an area where vast partnerships between intelligence agencies and private contractors saturate everyday life, the jury pool was bound to please the prosecution.
In a U.S. District Court that boasts a "rocket docket," the selection of 14 jurors was swift, with the process lasting under three hours. Along the way, Judge Leonie M. Brinkema asked more than a dozen possible jurors whether their personal connections to the CIA or other intel agencies would interfere with her announced quest for an "absolutely open mind."
From what I could tell, none of those with direct connections to intelligence agencies ended up in the jury box. But affinities with agencies like the CIA seemed implicit in the courtroom.
Throughout the jury selection, there was scarcely a hint that
activities of those agencies might merit disapproval.

see the whole story: http://www.theportlandalliance.org/solomon
---
Oregon AFL-CIO
3645 SE 32nd Ave, Portland, Oregon 97202


the whole story: http://www.ThePortlandAlliance.org/aflcio

Portland Rising and the Coalition of Black Trade Unionists present "At the River I Stand". During two eventful months in 1968, what began as a local labor dispute between African American sanitation workers and the white power structure of Memphis grew into the devastating tragedy of the assassination of Dr. Martin Luther King, Jr. and a national struggle for racial and economic justice. It marked a turning point in the Civil Rights Movement.


On the News With Thom Hartmann: Last Year Was the Hottest Year on Record, and More
In today's On the News segment: According to the Japan Meteorological Agency, 2014 was hotter than any other year in its 120 years of record-keeping; California has big plans for reducing its carbon footprint; scientists have discovered the most Earth-like planet ever found outside of our solar system; and more.
Watch the Video and Read the Transcript
The rest of the story:
The Alliance Truthout Portal
http://www.theportlandalliance.org/truthout
---
LABOR RADIO SHOW

http://www.ThePortlandAlliance.org/laborradio

KBOO Community Radio

90.7 FM

presents: Labor Radio Show

6:00-6:30 pm Every Monday Night!

CALL-IN and

join the conversation

! : 503-231-8187 Host:

Lane Poncy Michael Morrow

-- 5th Monday http://laborradiocollective.blogspot.com/2014/03/taxfairnessandincomedisparity.html
---
http://www.ThePortlandAlliance.org/socialistworker
---
Love matters…
Ancient times, artifacts, rituals and superstitions
protected us from angry gods demanding mysterious sacrifices.
But healing comes from the heart: we all seek peace.
Banners wave and shepherds tend their flocks,
but morals and righteousness
are about who we are and what we do…
And love speaks joy to me when the sun rises and sets.
―Tim
"Love is a weapon of Light,
and it has the power
to eradicate all forms of darkness. Picture by Karylee Harrison
That is the key.
When we offer love even to our enemies,
we destroy their darkness and hatred…
What's more, we cast out the darkness inside ourselves."
― Yehuda Berg


'True religion is real living; living with all one's soul, with all one's goodness and righteousness.'
―Albert Einstein
"Keep love in your heart.
A life without it is like a sunless garden when the flowers are dead."
― Oscar Wilde


Love is a name for what people call God.
― tmf
So how does love speak to me?
"Love is the only sane and satisfactory
answer to the problem of human existence."
―Erich Fromm
"Love takes off masks that we fear
we cannot live without and know we cannot live within."
―James A. Baldwin


"What is love? It is the morning and the evening star."
―Sinclair Lewis
"Love is the flower you've got to let grow."
―John Lennon
"Love is the crowning grace of humanity, the holiest right of the soul, the golden link which binds us to duty and truth, the redeeming principle that chiefly reconciles the heart to life, and is prophetic of eternal good."
―Petrarch
"Love is a canvas furnished by nature and embroidered by imagination."
―Voltaire


"A loving heart is the truest wisdom."
―Charles Dickens
"Love, having no geography, knows no boundaries."
―Truman Capote
"I believe that unarmed truth and unconditional love
will have the final word in reality. "
―Martin Luther King, Jr.
"All, everything that I understand,
I understand only because I love."
―Leo Tolstoy



"Who loves, raves."
―Lord Byron
"Love is like a faucet,
it turns off and on.